Book Binding
Common questions asked about binding…
How can I ensure that my book to lays flat when open? How can I ensure that my book to lays flat when closed? How can I make sure that the pages don't come out after heavy use? How much heavier and thicker will a hardback book be? How much extra is a jacket? How can I prevent my cover from getting damaged? Round or square spine? Can I make the cover waterproof? How can I make sure that I don't get wavy page edges? Is there a middle ground between hardback and softback?
How much cost do each of these options add?
There are many different ways to bind a book. Here are some of the options we can offer:
Case binding
Perfect binding
Section Sewing
PUR binding
Bust binding
Notch binding
Wire-o-binding
Half Canadian binding
Full Canadian binding
Spiral binding
Comb binding
Saddle Stitching
Loop Stitching
Side stabbing
Ring binding
Screw post binding
Ring binding
French Binding
Flexi binding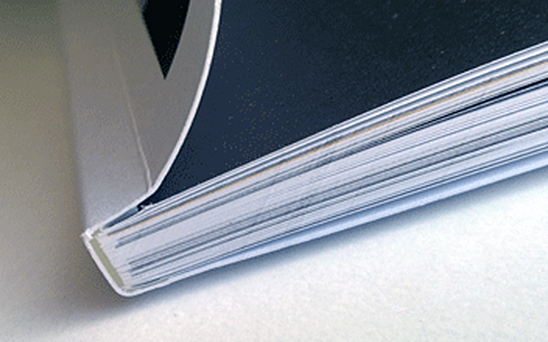 PUR (Polyurethane Reactive) is the strongest, most flexible book binding adhesive available. It offers superior page-pull strength compared to standard hot melt binding adhesives, averaging 40 percent to 60 percent better than traditional perfect binding adhesives. This makes PUR ideal for heavy-use applications or projects with heavy ink or paper coating coverage. PUR is considerably more flexible than standard EVA hotmelts, giving the finished product the ability to lie flater when open, allowing for hands free reading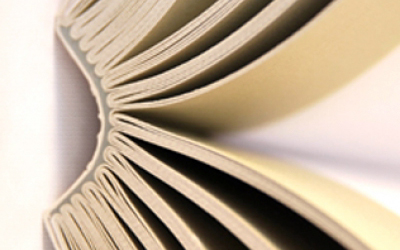 Thread sewn binding (or 'sewn with drawn on cover') is very similar to perfect binding. Mainly used in book production requiring more durability than perfect binding. The sections are gathered in order, sewn together using thread, adhesive applied to the sewn spine, and the cover attached (drawn on) and formed around the book. Thread sewn binding is mostly used for catalogues and books with thicker inside paper and which have to be useable for a long time. If the product needs to have inside paper above 130g we highly recommend to choose thread sewn binding. Thread sewn binding is also used when the book needs to lay flat once opened. When opening the book, the reader can force open by the reader, without any reduction in the books strength.
Wire-O-Binding uses a double wire to spiral bind a book, forming a continuous hinge of double loops of wire to hold the book covers and leaves together. This is a versatile solution for many book binding needs as it is durable, lays flat, very cost-effective, can be opened past the lay flat limit and fold over onto itself. Full Canadian and Half Canadian Binding give a more finished look because the connectors and hinges' ends are hidden on the inside back cover. A spine also provides greater visibility once on the shelf.